About Me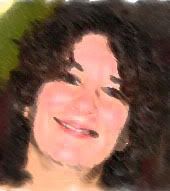 Name: Raven
Home: Ohio, United States
About Me: Married, 2 kids, 3 step-kids, 3 cats and a mini-doxie
See my complete profile
Previous Post
Archives
Places I Wander
Template by
Tuesday, July 31, 2007
Bothering me...
I really have nothing to write about this week. But, I found myself noticing something this week over and over and I thought if I wrote it down here, maybe I would quit noticing it.
Why is it that women who gain weight think about replacing their clothes so they fit better, but not their bras?
If they wear a shirt that is a little too form fitting, and the bra is an old one that no longer fits, it creates these funny rolls of fat under the shoulder blades. It cuts into the torso around the back and if the bras don't fit it can be easily noticed.
So here is a hint to all women out there...if you've gained weight, put a bra on and take a look in the mirror...if you see those rolls, go get a few new bras!
posted by Raven @ 10:11 PM

Tuesday, July 24, 2007
Dippy Daughter is Home!
She made it home from JFK finally. Delta actually wanted them to stay until Wednesday...but not put them up in a hotel. Can you imagine? They will be getting a very large piece of my mind tomorrow. Thank goodness for the teachers that fought so hard to get them home today.
She made it home in a very round about way. From JFK to Columbus Ohio, Columbus to Cincinnati Ohio, Cincinnati Ohio to Cleveland Ohio. Each time she had to change planes. I felt sorry for the kid. She's home now and says she smells like airport floor and is consequently in the shower at the moment.
We haven't even downloaded her pictures yet, but when we do, I will make sure to post some.
posted by Raven @ 9:21 PM

Monday, July 23, 2007
Vacation come and gone
I think this is the first vacation I've taken in 15 years where I wasn't exhausted at the end of it. It was wonderful. Even though it was rainy icky the day we went to Soak City we still had a wonderful time. Goth Girl and I went to

Walmart

for the midnight release of Harry Potter and the Deathly Hallows. We were #3 and 4 in line. (yes

Walmart

has been opening at midnight

Flannery

, for the last few books.) No

pre

-order and we made our own party out of it. Got home about 12:20am and started reading. I read for about 2 hours and couldn't stay awake anymore. Woke up the next morning and read more. Went to sister's 30

th

birthday party that night, came home and read. I made it to the last 50 pages and just could not keep my eyes open..so I finished it Sunday morning. I'll write more about the plot twists and turns later...after more people have finished it.
Sister's birthday party was fun. Mom decided to play nice, so we very neatly avoided each other most of the night. We drank several margaritas and jello shots. Finally decided what to give her...a gift certificate to

Netflix

. She likes movies but I wasn't sure where she rented them from and I figured this was perfect because is was for a length of time rather than a monetary amount. She can make as much or as little use of it as she wants!
Dippy Daughter was supposed to be home from Europe today...she is stuck sleeping in JFK airport right now. Their flight was cancelled due to weather. Bet she's having fun at the moment. I'm trying to find out when she will be home tomorrow so I know when to go get her from the airport.
Well, vacation is over...Hubby is back in Albany...I went back to work today. I sat down at my desk, opened my email...and seriously thought about turning around and leaving. I had over 100 emails that I needed to take care of, plus the normal stuff that came in during the day. How long is it to Labor Day?
posted by Raven @ 8:46 PM

Sunday, July 15, 2007
Vacation!!!
Finally, vacation week is here! I am so ready for a week off. The nice thing is only a couple of days are filled up with "things" to do. The rest are days at home. We are going to Soak City and Cedar point and we are meeting my mother-in-law (who is a blast) and my sister in law and her two kids there. When we get home, it's just home stuff. We do have to attend my little sister's 30th birthday party. My parents will be there...that should be fun...not! I'm hoping there are enough people there that I will be able to easily move around the room without looking like I'm avoiding my mother. I want to make sure the party is about little sister and not the drama I know my mother will create if she gets me alone for any amount of time.
Speaking of sister's birthday, anyone got any ideas about what to get a 30 year old fashionista? We have radically different tastes and goals in life and I am completely clueless what to get her.
Well, I have to go. We are cleaning the house today from top to bottom so when we come home from having fun there is nothing to do but unpack.
I hope everyone is having a wonderful summer!
posted by Raven @ 1:27 PM

Thursday, July 12, 2007
Escaping the Nest
What a difference 2 years make! I wrote this post (click here) back in the summer of 2005.
Today Mandy left for Spain and France. I thought she was going to explode with excitement before she got on the plane. She was a little sad because she would miss us, but mainly she just wanted to get started on the trip.
I've very proud of my little chickie...growing up and testing her wings for leaving the nest. On the other hand, I feeling a little sad. She's growing up and will, somtime in the next few years, leave me completely.
I'm also feeling a little old. I know I'm one of the youngest mother's in her class, but still...the kids is growing up and that means time is passing for me as well.
Oh well, Mandy will have a blast on this trip. She is going to Madrid, Barcelona, Provence, Cote d'Azur, Monoco, and Paris. (sigh) My daughter and my luggage have been place I've only dreamed about.


PS Laura (Goth Girl) thinks I'm being silly getting so misty eyed about them growing up. I told she thinks this is bad, just wait until she starts high school this fall, I'm going to be a mess.
posted by Raven @ 10:12 PM

Monday, July 09, 2007
What? Who? Where?
How? That's the big questions...how the heck am I going to get everything done! Nothing bad, I'm even in a great mood, I just have so much to do over the next 2 weeks! Tonight was the start, with the last meeting before Dippy Daughter goes to Spain and France for 10 days. Tomorrow night we are going to the midnight showing of Harry Potter, plus pick up a couple of last minute items for the above mentioned trip.
Thursday I have to get her to the airport at 11am, plus I have 2 meetings at work that day (thankfully in the afternoon.) Then I have to get the rest of the household ready for our vacation.
Monday we are driving out to Marblehead to scout out a house for the family reunion vacation in 2009, then I have to drive back to my hometown (over an hour away) and get Goth Girl and Dorky Step-daughter from Marching Band practice, then drive to the hotel out near Cedar Point. We are then going to Soak City and Cedar Point for a couple of days. After that, back home and then 2 days later Goth Girl and I are going to go get the last Harry Potter book at midnight.
On top of all of this I am trying to keep ahead of the game at work, so when I come back from vacation I don't feel like running from the building screaming (that will probably happen anyways, but I can hope) and deal with several meetings before and after vacation.
It's all great stuff (well, except for work) and I am just itching to get started on all of it, but I think I'm going to need a rest after my vacation/fun time! No sane person can fit all of this crap in...wait, I forgot, sanity hasn't been a problem for me during the last few decades!
posted by Raven @ 10:17 PM