About Me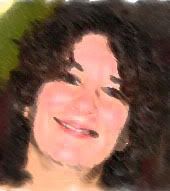 Name: Raven
Home: Ohio, United States
About Me: Married, 2 kids, 3 step-kids, 3 cats and a mini-doxie
See my complete profile
Previous Post
Archives
Places I Wander
Template by
Monday, March 27, 2006
Being in need of giggles!!
I absolutely refuse to go back on the Zoloft!! I am not going to let myself get pulled down into that spiral again. While it is a great drug and works wonders...It screws up my stomach and kills my sex drive. Being that sex is part of the fun things in life...I really don't like that side effect.
This being said I am actively trying to find the fun things in life. The things I enjoy, have fun with, make me giggle or at least crack a smile. Thankfully, Nerdboy has stopped by and let me know where his new blog is. He always has fun stuff on his blog. I also engaged in a little retail therapy, which you men don't understand well, but many women do.
I am determined each day to read my comics, quit taking things quite so seriously, and if all else fails stick my head out the sunroof of my new car while going down the highway.
Now if you'll excuse me, I'm going to go back to ebay and continue with my therapy session!
posted by Raven @ 9:13 PM

Thursday, March 23, 2006
Update on Father in Law
We got the results of the tests back. The cancer has spread. He has it in both lungs, his esophogus, liver and stomach. It doesn't look good.
posted by Raven @ 9:48 PM

Tuesday, March 14, 2006
The kids have more of a life than I do...
Let's see here...Last Friday they had a dance at the school. My sister chaperoned and then took them over to her house for a sleepover. Then on Saturday morning I went picked up Mandy to take her to the Power of the Pen competition. The team as a whole did well, butt we won't find out if Mandy goes on to the state competition until later this week.
This weekend we have Mandy in the regionals for the Scripps Spelling Bee. On St. Patty's Day!!! Who planned this?! Laura is going to have to go the Irish Heritage Club and play in the Bagpipe band that night. So Hubby and I are going to have to split up. I won the card draw on who goes where (the Irish Heritage Club being the much more fun option) but I really don't want to deal with my parents alone, so I let him go and I'll go to the spelling bee. Also next weekend the twins are getting confirmed, so we have to go to that.
With all of this, we had to fit Hubby's birthday in somewhere. So we celebrated it last weekend, a week early. Hubby requested Angel Food Cake and we went to a great Mexican restaurant we love. Wonderful food and outstanding margarita's. Hubby's big gift was a 60GB MP3 player. This will store all of his music and audio books for his drives each week.
I printed out a 700 page list of word's used during the Scripps Spelling Bee's for Mandy to study. If she places at this one she will go on to the National one in Washington DC in June. I am very proud of her. Not so much for the academic part of it. I always knew she was smart enough. More for the courage to get up there in front of everyone and still think logically. She is very shy and every year before this she was disqualified for silly mistakes because she was rattled at people watching her.
Laura on the other hand is getting a D+ in math this quarter. Poor kid...I see shades of my math abilities in her. She is in a bit of trouble because of this because she blew off something like 10 homeworks and that got her very behind in the class. Laura is still trying to find her own way and style and I am trying to help her where I can, but she still has to do the school work. I'm not looking for A's, just an effort. Speaking of effort, this reminded me I have to call her math teacher and try and find out where Laura is blowing it so I can try and tutor her a little. She and I seem to have issues with math in the same way and I am able to explain things to her in ways she understands.
posted by Raven @ 7:52 AM

Thursday, March 02, 2006
When does death go on holiday?
It's been a lousy week for bad news and death. They say these things come in 3's and I've hit that mark, so hopefully it's at an end for the moment.
A friend of a friend has just been diagnosed with leukemia. I know this person very minimally, they are a little young and not really someone I would hang out with. He and his wife are newly married and expecting their first child, and then to get hit with this.
We also got news that my father-in-law's medical test came back. He has been feeling run down and not quite right for quite awhile and the family finally bullied him into getting these tests. Well, the chest x-rays show a spot on each lung and one on his esophogus. So he is going back in for a biopsy and a full body CAT scan. We really don't know what is going to happen here because my FIL has been rather passively killing himself since my youngest BIL died 7 years ago. He could decide not to get any treatment.
Then 2 days ago we heard that the husband of a friend died. Someone I've known for 10 years. He had already been diagnosed with terminal cancer but he was not expected to die for another 3 months or more. Their kids got together and gave them a cruise, flying back from Florida he had a coughing fit on the plane and it burst the tumor. They made an emergency landing in Louisville, but there was nothing they could do. So, I'm going to the wake tonight and the funeral tomorrow.
Hopefully death is appeased for the moment.
posted by Raven @ 7:00 AM