About Me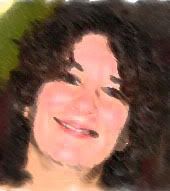 Name: Raven
Home: Ohio, United States
About Me: Married, 2 kids, 3 step-kids, 3 cats and a mini-doxie
See my complete profile
Previous Post
Archives
Places I Wander
Template by
Thursday, July 27, 2006
What if...
Everyone has those what if moments...what if I turned right instead of left crap. Hubby and I were talking about a series of book tonight that are along those same lines. The first book is called Guns of the South by Harry Turtledove. Very interesting reading. Basically it's about a group of South African white supremacist that go back in time and give AK-47's to the Confederates. This allows the Confederacy to win the Civil War. There is a whole series on this. I've read part of the next book about WWI where the USA is on the side of Germany and the CSA (Confederate States of America) are on the Allies side.
But the conversation got me thinking about my own life and what if...
What if we never moved to this Podunk little town. I was much happier and more outgoing in the larger town we lived in. I had friends, people I knew, a school I may not have enjoyed but I knew and was comfortable in. There was a diversity I enjoyed and was not even aware of the differences. What if we had not moved to this white bread, mow you lawn on Saturday community?
What if I had not been so intimidated by the guy I really liked in high school. He was really smart while I just coasted by in school. What if I had demanded that if he wanted to be with me then he had to express it in some other way that seeing me ever other month and wondering if I was still on my "one a day pills." He only seemed interested in me when I was dating someone else, what if I had demanded a reason why?
What if I had not gotten married at 18 and instead have gone to the Philippines. Would I have enjoyed my military career more? Would I have traved to more countries. Would my volunteering for the first Gulf war have been more quickly acted upon?
What if I had stayed in the military after my divorce? Would I have gotten to another damn base besides Offutt?
That's pretty much where my big what if's end...once I got out of the military I had a plan and I've pretty much stuck to it and there hasn't been room for deviations. The only surprise was my hubby. I dated quite a bit, but I wasn't looking for a marriage. The only real what if after our marriage is what if I had ignores all the crap Jennifer (my oldest step-daughter) did would we have a better relationship. The only problem there is there is no way I could ignore the heavy drug use, stealing, and general apathetic attitude.
So there are my what if's. Henry Turtledove made money writing about what if's with the Civil War, Prez Kennedy and Marilyn Monroe...doubt I would be able to make much. Looking back though is interesting, though frustrating as there are no real answers. The school I was in closed eventually, the boy married some one and lives in the central part of the country, the ex-husband is remarried to another woman named Amy, Dean is also married, and the step-daughter is living with her druggie boyfriend.
While my what if's are frustrating I know one thing for sure. I am happy where I'm at and in the end I may with things were different aspects I would not change the majority of my life for anything.
posted by Raven @ 8:05 PM

Have Nude Thursday
Sorry I skipped last week. Hubby was home early and the kids were at camp, so we indulged in things we don't normally do when the kids are there...Chinese food...get your mind out of the gutter! (but if you see mine down there could you get it for me?) We also did a few other things...thankfully I was able to sleep late on Friday.
This is my foot. Redneck asked for a picture of the sole. I figured I'd indulge him this week. I sit cros legged most of the time, in a yoga position. I see the bottoms of my feet quite often. I never realuized how wrinkly they are though until I tried to take a picture.
Enjoy!

posted by Raven @ 7:54 PM

Tuesday, July 18, 2006
The A/C and Me
OK...I wrote yesterday about buying a new A/C unit for the upstairs as the one I had couldn't handle this heat. Well I got the energy to try and rearrange things last night. What I thought was going to be a 10 minute job turned into an hour and a half cluster f**k! Jeeze!
Here's what happened. The one we had in the hallway was about 5,200 BTU. That fine for normal everyday heat, but this 100 degree stuff was killing it. So I bought and 8,000 BTU yesterday. I was going to take the old one, put it our bedroom window and then put the new one in the hallway. I knew I could lift and move around the old one but I was a little worried about trying to install the new one. The window is 25 ft above our driveway. If I had dropped it, it would not have survived. I wanted to get things a little arranged for my husband as a surprise so I decided to move the A/C into the bedroom and then later we could install the new one in the hallway. That way the bedroom would be nice and cool for sleeping. (Just so you don't think I'm trying to bake the kids, they are at camp this week)
Well, I get the screen out of the window and clean up the window some. Then I get the A/C from the hallway (it dumps water all over me) and go to stick it in the window...it's too big. Try again...maybe I'm putting it in at an angle...nope still too big. Maybe if I wedge it in at an angle...nope. Maybe is I slide it in from the side...nope still too big. Maybe if I take a HAMMER AND POUND THE LIVING S**T OUT OF THE WINDOW FRAME THE F****ER WILL FIT!!!!
(sigh)
No, I didn't go get the hammer but I thought about it real hard. So, now I had a decision to make. I could put the A/C back where I got it from and admit defeat and be overheated while I slept last night or I could figure something else out. Of course because I thought this would be quick I started this at 10pm.
Well, I don't like admitting defeat...Especially to household appliances so I decided to take my chances with putting the new one in the window.
I went and got it out of the car and put it together in the kitchen, in front of another A/C unit. A little over and hour later it's all put together (the damn box didn't say anything about some assembly required) I start lugging it upstairs. I have the stairs from hell in my house. Maybe I'll post a picture of them sometime. The are narrow and steep. I finally feel my way up those with this 100lb piece of machinery. I get it in the window and manage to close the sash without dropping it on the driveway. Yippee for me!!
So I try and turn it on, and it scared me at first, it didn't start...then I realized I had to push a ground fault thing...and low an behold it worked!!
By this time it's almost 11:30pm. I am hot and sweaty, tired and cranky, my back is starting to hurt from lugging all this crap around...but I had cool air again!
Lessons learned...measure the windows first before carrying around large pieces of equipment...and keep a hammer handy for those impulsive moments when you want to give something a whack!
posted by Raven @ 4:24 PM

Monday, July 17, 2006
HOT!!!
OK, I like heat but this is getting nuts! I like dry Arizona heat...not this muggy, I need to grow gills crap. To top it all off I'm broiling at work. I found out that when they built the building the company went cheap and itstead of installing two A/C units that was reccomended they only installed one. This leaves half of the building broiling. Guess which half I work in...damn.
I bought another window /C unit for my house because the one upstairs just can't handle all of this all on it's own. Now I just need to get the energy to install it!
posted by Raven @ 9:55 PM

Sunday, July 16, 2006
Banned Books
I got this off off Sara's Spot...I was looking for an update on here bunnies...but,I love books so I thought I would add this to my site. You are supposed to highlight the ones you have read.

Scary Stories (Series) by Alvin Schwartz
Daddy's Roommate by Michael Willhoite
I Know Why the Caged Bird Sings by Maya Angelou
The Chocolate War by Robert Cormier
The Adventures of Huckleberry Finn by Mark Twain
Of Mice and Men by John Steinbeck
Harry Potter (Series) by J.K. Rowling
Forever by Judy BlumeBridge to Terabithia by Katherine Paterson
Alice (Series) by Phyllis Reynolds Naylor
Heather Has Two Mommies by Leslea Newman
My Brother Sam is Dead by James Lincoln Collier and Christopher Collier
The Catcher in the Rye by J.D. Salinger
The Giver by Lois Lowry
It's Perfectly Normal by Robie Harris
Goosebumps (Series) by R.L. Stine
A Day No Pigs Would Die by Robert Newton Peck
The Color Purple by Alice Walker
Sex by Madonna
Earth's Children (Series) by Jean M. Auel [only the first three]
The Great Gilly Hopkins by Katherine Paterson
A Wrinkle in Time by Madeleine L'Engle
Go Ask Alice by Anonymous
Fallen Angels by Walter Dean Myers
In the Night Kitchen by Maurice Sendak
The Stupids (Series) by Harry Allard
The Witches by Roald Dahl
The New Joy of Gay Sex by Charles Silverstein
Anastasia Krupnik (Series) by Lois Lowry
The Goats by Brock Cole
Kaffir Boy by Mark Mathabane
Blubber by Judy Blume
Killing Mr. Griffin by Lois Duncan
Halloween ABC by Eve Merriam
We All Fall Down by Robert Cormier
Final Exit by Derek Humphry
The Handmaid's Tale by Margaret Atwood
Julie of the Wolves by Jean Craighead George
The Bluest Eye by Toni Morrison
What's Happening to my Body? Book for Girls: A Growing-Up Guide for Parents & Daughters by Lynda Madaras
To Kill a Mockingbird by Harper Lee
Beloved by Toni Morrison
The Outsiders by S.E. Hinton
The Pigman by Paul Zindel
Bumps in the Night by Harry Allard
Deenie by Judy Blume
Flowers for Algernon by Daniel Keyes
Annie on my Mind by Nancy Garden
The Boy Who Lost His Face by Louis Sachar
Cross Your Fingers, Spit in Your Hat by Alvin Schwartz
A Light in the Attic by Shel Silverstein
Brave New World by Aldous Huxley
Sleeping Beauty Trilogy by A.N. Roquelaure (Anne Rice)
Asking About Sex and Growing Up by Joanna Cole
Cujo by Stephen King
James and the Giant Peach by Roald Dahl
The Anarchist Cookbook by William Powell
Boys and Sex by Wardell Pomeroy
Ordinary People by Judith Guest
American Psycho by Bret Easton Ellis
What's Happening to my Body? Book for Boys: A Growing-Up Guide for Parents & Sons by Lynda Madaras
Are You There, God? It's Me, Margaret by Judy Blume
Crazy Lady by Jane Conly
Athletic Shorts by Chris Crutcher
Fade by Robert Cormier
Guess What? by Mem Fox
The House of Spirits by Isabel Allende
The Face on the Milk Carton by Caroline Cooney
Slaughterhouse-Five by Kurt Vonnegut
Lord of the Flies by William Golding
Native Son by Richard Wright
Women on Top: How Real Life Has Changed Women's Fantasies by Nancy Friday
Curses, Hexes and Spells by Daniel Cohen
Jack by A.M. Homes
Bless Me, Ultima by Rudolfo A. Anaya
Where Did I Come From? by Peter Mayle
Carrie by Stephen King
Tiger Eyes by Judy Blume
On My Honor by Marion Dane Bauer
Arizona Kid by Ron Koertge
Family Secrets by Norma Klein
Mommy Laid An Egg by Babette Cole
The Dead Zone by Stephen King
The Adventures of Tom Sawyer by Mark Twain
Song of Solomon by Toni Morrison
Always Running by Luis Rodriguez
Private Parts by Howard Stern
Where's Waldo? by Martin Hanford
Summer of My German Soldier by Bette Greene
Little Black Sambo by Helen Bannerman
Pillars of the Earth by Ken Follett
Running Loose by Chris Crutcher
Sex Education by Jenny Davis
The Drowning of Stephen Jones by Bette Greene
Girls and Sex by Wardell Pomeroy
How to Eat Fried Worms by Thomas Rockwell
View from the Cherry Tree by Willo Davis Roberts
The Headless Cupid by Zilpha Keatley Snyder
The Terrorist by Caroline Cooney
Jump Ship to Freedom by James Lincoln Collier and Christopher Collier

Half of these books I read as a kid...I was such a rebel!
posted by Raven @ 1:30 AM

Thursday, July 13, 2006
It's That Time Again - Half Nude Thursday
I can't believe it's been two weeks since I posted. I will post about my vacation soon (it was very nice thanks) I've been trying to recover from it. Why when you have kids do you feel the need to cram stuff into every second of vacation? I came home more tired than when I left. The girls go to camp next week so I've been trying to catch up on laundry and re-packing for that.
In the mean time here is my contribution for smut on the internet ;-)
I decided on my back because I got a little sunburned there and it's been making me nuts with the itching. I know it's hard to tell, my skin is so fair any pink is considered burned. When they called Caucasian white, they were talking about my skin tone! I just got home from work and my weekly excursion to the pub. I'm feeling very relaxed!



posted by Raven @ 8:13 PM