About Me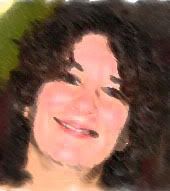 Name: Raven
Home: Ohio, United States
About Me: Married, 2 kids, 3 step-kids, 3 cats and a mini-doxie
See my complete profile
Previous Post
Archives
Places I Wander
Template by
Tuesday, March 14, 2006
The kids have more of a life than I do...
Let's see here...Last Friday they had a dance at the school. My sister chaperoned and then took them over to her house for a sleepover. Then on Saturday morning I went picked up Mandy to take her to the Power of the Pen competition. The team as a whole did well, butt we won't find out if Mandy goes on to the state competition until later this week.
This weekend we have Mandy in the regionals for the Scripps Spelling Bee. On St. Patty's Day!!! Who planned this?! Laura is going to have to go the Irish Heritage Club and play in the Bagpipe band that night. So Hubby and I are going to have to split up. I won the card draw on who goes where (the Irish Heritage Club being the much more fun option) but I really don't want to deal with my parents alone, so I let him go and I'll go to the spelling bee. Also next weekend the twins are getting confirmed, so we have to go to that.
With all of this, we had to fit Hubby's birthday in somewhere. So we celebrated it last weekend, a week early. Hubby requested Angel Food Cake and we went to a great Mexican restaurant we love. Wonderful food and outstanding margarita's. Hubby's big gift was a 60GB MP3 player. This will store all of his music and audio books for his drives each week.
I printed out a 700 page list of word's used during the Scripps Spelling Bee's for Mandy to study. If she places at this one she will go on to the National one in Washington DC in June. I am very proud of her. Not so much for the academic part of it. I always knew she was smart enough. More for the courage to get up there in front of everyone and still think logically. She is very shy and every year before this she was disqualified for silly mistakes because she was rattled at people watching her.
Laura on the other hand is getting a D+ in math this quarter. Poor kid...I see shades of my math abilities in her. She is in a bit of trouble because of this because she blew off something like 10 homeworks and that got her very behind in the class. Laura is still trying to find her own way and style and I am trying to help her where I can, but she still has to do the school work. I'm not looking for A's, just an effort. Speaking of effort, this reminded me I have to call her math teacher and try and find out where Laura is blowing it so I can try and tutor her a little. She and I seem to have issues with math in the same way and I am able to explain things to her in ways she understands.
posted by Raven @ 7:52 AM