About Me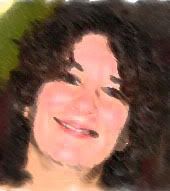 Name: Raven
Home: Ohio, United States
About Me: Married, 2 kids, 3 step-kids, 3 cats and a mini-doxie
See my complete profile
Previous Post
Archives
Places I Wander
Template by
Friday, March 14, 2008
Getting Older
:::grumbling::: damn age...things starting to hurt...not working right...pain...damn

So I've spent yesterday in some pain. I spent some time on WebMD...came to some conclusions that it was kidney stone...or appendicitis. No fever...so go with the kidney stone. Nothing they can really do about that, and I'm not a big believer in pain meds...they make me even more loopy than I am normally.
Hurt even more thins morning...getting ready to go to work I had a rip roaring pain and fainted. Hubby took me to the hospital...I bitched the entire time. It still hurt...but it was better. Turns out I have ovarian cycts and one burst. Ohhh goody. Even more doctor visits will now follow. I HATE going to the doctor.
This aging thing really sucks!!!
posted by Raven @ 3:08 PM