About Me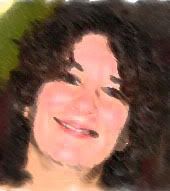 Name: Raven
Home: Ohio, United States
About Me: Married, 2 kids, 3 step-kids, 3 cats and a mini-doxie
See my complete profile
Previous Post
Archives
Places I Wander
Template by
Saturday, February 16, 2008
What the...
Who wakes up in worse condition than when they went to bed? OK, I can see in some cases like being drunk...waking up in worse condition...there might be a few others. But I am trying to figure out how I managed it. I was not drunk, hadn't sone any major physical exertion...hubby wasn't home so the trapeeze wasn't in play. I woke up on Valentine's Day with my back tied up in knots.
Now thankfully it's my upper back and around my neck, not my lower back. So I can twist at the waist...but do not ask me to move my arms above my head or move my head more than the smallest amount.
I struggled through work on Valentine's Day. I ate over the counter pain killers like they were candy. I went drug seeking to a friend who has 2 nurses in her family...struck out. I went home and lived in the bathtub for several hours.
I went to bed with heating pads on my back and neck. Woke up the next morning...no better. Damn...
I wasn't going to spend that day sitting at work in pain, so I took the day off. I spent the morning sitting in my living room trying to determine if I could manage to get dressed for a trip to Walgreens. I did finally managed to get dressed, but I couldn't manage shoes...so I went in my slippers. I got to Walgreens got more heating pads and the strongest over the counter drugs I could manage. I did ask the pharmacist if they were giving away any free samples of vicodin...no luck there.
I managed to get back home...sat in my driveway for awhile trying to get up the nerve to go through the stabbing pain it caused trying to get out of the damn van. I finally got in the house and pput the new heating pads on...which no matter what they say DO NOT STICK!!! So I strapped them on with a bunch of cursing, wincing, and duck tape!
Dinner last night was Chinese take out. No way I was cooking!
This morning I'm actually feeling better. I managed to take a shower, which helped. The most painful thing so far has been taking the old heating pad off and putting on a new one. That involved a teenager ripping off the old duck tape and putting a new layer on. I think they enjoyed it, the little brats.
So, I'm back up and moving...but I still want to know what the hell happened? Is this part of getting older? Or did my dreams involve beating the shit out of me a few nights ago.
posted by Raven @ 12:43 PM