About Me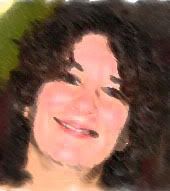 Name: Raven
Home: Ohio, United States
About Me: Married, 2 kids, 3 step-kids, 3 cats and a mini-doxie
See my complete profile
Previous Post
Archives
Places I Wander
Template by
Wednesday, August 09, 2006
Half Nude Thursday

Sorry I haven't posted more. It's nuts at work and home. Work, it's rush...which means college bookstores across the nation are calling us and ordering last minute books for classes that start in the next few weeks. Home, I am trying to get rooms rearranged before the kids go back to school. which means painting and carpet cleaning among other things.
One that note, I was too tired to come up with something creative this time. Mandy is at a cross country meet tonight, so she isn't here to help decorate my feet this time...next week I swear. This is my hand. I just got my nails done. My hands are what scare me and make me realize I'm note 18 anymore. Not even the gray hair gets me that bad, but my hands are definitely starting to show my age. See all the veins? Ewww!



To help keep you entertained I stole this off of Duffie's site. Enjoy!
1.Where were you 1 hour ago? IHOP with Laura...it was either that or cook her pancakes.
2. Who will be your next kiss? Probably Laura...Mandy doesn't like kisses. Feel sorry for her eventual boyfriends.
3. Is there anything pink within 10 feet of you? Ummm, book cover, some clothes ohhh....the stuffed bunny that sits on my computer screen has pink in it's ears.
4. When is the last time you were at the mall? Let me think...It was great Northern Mall...Oh, to get Mandy a one piece bathing suit for camp...that was about a month ago.
5. Are you wearing socks right now? Yes, they are sheer black ones with irises painted on them.
6. When was the last time you went out of the state? For my FIL Funeral right after Easter...I'm actually going again on Saturday to take Laura to Pennsic.
7. Have you been to the movies in the last 5 days? No Hubby and the kids went to see Monster House and I hung out at Border's.
8. What was the last thing you had to drink? Milk
9. What are you wearing right now? Jeans and a T-shirt
10. Have you been in a car wash? With or without the car? With yes...without no, they scare me a little.
11. Last food you ate? Pancakes and hash browns at IHOP.
13. Have you bought any clothing items in the last week? Ummm, not for me, bought track spikes for Mandy, does that count?
14. Do you have any pets? Let's see, a mini doxie named Frits, 3 cats names Chippy Sugar and Q, and two brown anoles named Bert and Ernie.
15. What's the last sporting event you watched? I can't even remember...parts of my sons baseball games, several parts of different golf events on TV. The last one I watched in it's entirety was the superbowl.
16. What was your favorite class? Religion and Ethics.
Ummm Duffie...what happened to 17?
18. What is the last thing you purchased online? A bed for my daughter...she has this thing about having a mattress on the floor.
19. How old are your parents? 60 and 61
20. Are you in love? More everyday!
21. Do you miss anyone? Yes several people. Some I'll see soon, others I won't
22. Last play you saw? Jeeze a play was probably A Tuna Christmas about 3 years ago. We saw an opera of Romeo and Juliet last Valentine's Day.
23. What are your plans for the day? I really should go paint some trim, right now I'm waiting for a call to go get Mandy from the High School after her meet, then BED!
24. Ever go to camp? Yes, Amish camp...no electricity, no indoor plumbing...wear pants all the time. It was fun but have you ever tried to explain something like that when you are 11 to other kids? No? It's not a good experience!
25. Were you an honor roll student in school?HAHAHAHAHAHA!
26. Are you wearing any perfume or cologne? Jasmine and Rose body spray
27. Do you have a tan? On my left arm...that's it!
28. How old do you want to be when you have kids? Too late...
29. Do you collect anything? Kids, pets, books, I have a few decorative plates but I don't really collect them.
30. Last time you got stopped by a cop or pulled over? See this entry
31. Have you ever drank your soda from a straw? Ummm, this is kind of like asking if I've ever been to a fastfood place...yes...I've also drank wine, amaretto sours, whiskey and water, and Mike's hard lemonade with a straw...not all at once though.
32. Last time you took a shower? This morning...trying to get the paint out of my hair. Thankfully whatever I missed just blended in with the gray.
33. What is your mood? Tired...get home Mandy
34. Are you someone's best friend? Yes, and he's mine
35. What's the last TV show you watched? Dead Zone or 4400, I can't remember what order I watched them in.

That's it...there is no more...well unless Duffie finds that missing 17th question.
PS I did a spell check on this before I posted it and it kept wanting to change the name Pennsic to penises...that's just wrong.
posted by Raven @ 9:33 PM