About Me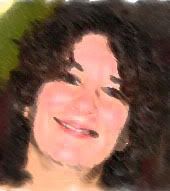 Name: Raven
Home: Ohio, United States
About Me: Married, 2 kids, 3 step-kids, 3 cats and a mini-doxie
See my complete profile
Previous Post
Archives
Places I Wander
Template by
Monday, August 14, 2006
Bits and pieces...Dribs and Drabs
Well thank you to Flannery for informing me that 35 is the new 21...I feel much better now about not acting my supposed age! It's nice to know I can still feel like a kid...or close to that..and not be condemned by my peers. If nothing else...my kids enjoy it...they get to enjoy mommy willing to get down on the floor and play PS2 with them...or make the puppy run around in circles.
The kids are gone for the moment...Mandy is camping with the cross country team and Laura is still at Pennsic. So I ate dinner at the pub. They have pot luck Mondays...Tonight was Pork tenderloin, cheesy potatoes and a roll (there was also broccoli...ick) for $4.50. Can't get a much better deal. Plus I get to flirt with all of the older guys there...which they enjoy and is nice for my ego. Hubby just laughs at me when I do this and tells me not to get them too worked up. ;-)
Work is still nuts...this week is technically the half way point. Plus there is one person at work I am about ready to been with my son's baseball bat.
I am very proud of myself this week. Please look to the right and you will see I have managed to finally manipulate the HTML to include links to friends blogs...if I forgot anyone please speak up. Duffie, I wasn't sure whether you would want to be included...so let me know if you want a link.
Last thing for the day...anyone out there take any prescription sleep aids...Ambien, Lunesta or the sort. I have real issues getting to sleep. Once I fall asleep I'm fine, but getting the old brain to shut down long enough for that to happen is a challenge at times. I'm thinking about going to my doctor and getting something prescribed and I was wondering if anyone has any experiences, good or bad, they would like to share? I'm tired of being tired because I can't fall asleep until 2am and drinking every night really isn't an option.
Well, I'm going to go read for awhile...One last comment...It's been a year since I finally finished school and I want to say how much I am enjoying reading things I choose again, fiction, non-fiction, horror, suspense, thriller, romance...sigh...very nice.
posted by Raven @ 9:52 PM