About Me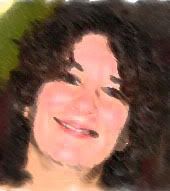 Name: Raven
Home: Ohio, United States
About Me: Married, 2 kids, 3 step-kids, 3 cats and a mini-doxie
See my complete profile
Previous Post
Archives
Places I Wander
Template by
Friday, April 28, 2006
4 things
I'm bored. Nothing really new to write about at the moment. I'm going to go downstairs and do a little spring cleaning in a moment, but to help me avoid that for a little while, I stole this...

FOUR JOBS YOU'VE HAD IN YOUR LIFE
1. NACSCORP
2. Invacare
3. First Union Real Estate Investement
4. Air Force (There are more than these but these had the most impact)

FOUR MOVIES YOU COULD WATCH OVER AND OVER
1. Independence Day (things go boom)
2. Total Recall (same reason)
3. Hitch (I love Will Smith)
4. Indiana Jones and the Last Crusade (Sean Connery nd Harrison Ford, tied up together...can you say yummm?)

FOUR CITIES YOU'VE LIVED IN:
1. Avon Lake
2. Elyria
3. Omaha
4. Bellvue

FOUR TV SHOWS YOU LOVE TO WATCH
1. Amazing Race
2. Smallville (Yes I know it's a teeny bopper show...I still like it and have the first two seasons on DVD)
3. CSI
4. Sopranos

FOUR PLACES YOU'VE BEEN ON VACATION/TRAVELED TO:
1. Windsor
2. Las Vegas
3. Phoenix
4. Mackinac Island

FOUR WEBSITES YOU VISIT DAILY:
1. Yahoo
2. Dear Abby
3. Daily Ink(need my comics everyday)
4. Blogger

FOUR OF YOUR FAVORITE RESTAURANTS:
1. Melting Pot (Going there for our anniversary in June)
2. Cabin Club
3. Panera
4. Daishin's (went there for my birthday last month)

FOUR OF YOUR FAVORITE FOODS:
1. Steak
2. Potatos (any potatos, I'm not picky)
3. Thin Mints
4. Double Noodle Chicken Soup

FOUR THINGS IN YOUR ROOM
1. King Size Bed (semi made)
2. Computer
3. TV
4. Shoes (I don't have a shoe rack so they are sort of scattered about the room)

FOUR THINGS YOU ARE WEARING RIGHT NOW:
1. Red Gypsy Skirt
2. White Short sleeve shirt
3. Control Top Panyhose (the bane of women who have had children)
4. Black ankle boots

FOUR PLACES I'D RATHER BE RIGHT NOW:
1. Carribean
2. Vegas
3. Windsor
4. Michigan (with hubby)


That's it...There is no more. Guess I have to go do the cleaning now. Ick! Everyone hope for rain...I don't want to mow the grass tomorrow.
posted by Raven @ 8:42 PM