About Me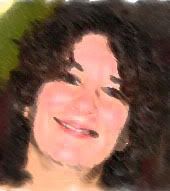 Name: Raven
Home: Ohio, United States
About Me: Married, 2 kids, 3 step-kids, 3 cats and a mini-doxie
See my complete profile
Previous Post
Archives
Places I Wander
Template by
Thursday, April 20, 2006
Think Fast
Quick! First thought that comes to mind...

1. I need: A good laugh and a small vacation. Think I'll stop at the pub tonight on my way home, I can usually get both there in an hour.
2. Sex: Whenever Hubby is in the same state as me.
3. Relationships: A lot of damn work.
4. Your Last Ex: Liar, manipulative, thankfully married to someone else now.
5. Power: Expensive, got the gas and electric bill.
6. Marijuana: Legalize it and tax it to death.
7. Crack: More than I want to see of my plumber
8. Food: How many Weight Watcher's points are we talking about?
9. This president: 1/20/09 (his last day in office!!)
10. War: Bush's kids should enlist
11. Cars: Payments (sorry just bought a new car, still waiting for the first bill to show up)
12. Gas Prices: Gouging.
13. Halloween: One of my favorite holidays. I would still trick or treat if I thought I could get away with it.
14. Bon Jovi: Oooohhh, saw him in concert in 1989, what blast.
15. Religion: It should be remembered that the Bible has been interpreted several times since the original version, mainly by men.
16. MySpace: Wonder when my step daughter will realize it's me informing the cops about all of the parties they plan and talk about on their MySpace's
17. Worst Fear: Hubby will die.
18. Marriage: Goes with relationships...a lot of damn work.
19. Fashion: Fun to watch, expensive to own, and uncomfortable to wear. Not me.
20. Brunettes: What I am.
21. Redheads: What I occasionally dye my hair to be.
22: Work: Zzzzzzzz.
23: Pass the time: Read, lot's...anything.
24: Football: Go BRONCO'S!!!
25: One night Stands: In the past thank the gods.
26: Pet Peeve: interrupting me.
27: Pixie Stix: I usually end up chocking my self on the powder.
28: Vanilla Ice: Remember the name, not the music though.
29: Porta Potties: Pee in a crouched position, while not touching the walls.
30: High school: Over thank the gods...especially the last two years. Orange and his group graduated without me!
31: Pajamas: Pajama's? What are those?
32. Wood: Flooring
33. Surfers: A great laugh if they are trying it on Lake Erie
34. Pictures: Forever falling behind on getting them developed.
35. First Love: ran away a lot as my friends and I would chase him down and kiss him on the playground (1st and 2nd grade)

This has been shamelessly stolen off of Redneck's blog. I needed to have little fun.
posted by Raven @ 1:19 PM