About Me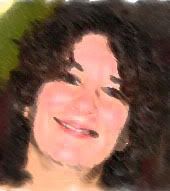 Name: Raven
Home: Ohio, United States
About Me: Married, 2 kids, 3 step-kids, 3 cats and a mini-doxie
See my complete profile
Previous Post
Archives
Places I Wander
Template by
Friday, November 03, 2006
Congratulations Laura!!
My little ADD girl got her report card today. For the very first time she made the honor roll! She got one A, the rest B's and and Outstanding in Art! I am very proud of her. I've never been big on grades, as long as she tried I was happy with the effort. Well, she tried very hard this grading period and is seeing the payoff!

In other news...my new screen door has been installed. It's made a big difference already! Especially since it snowed last night! There wasn't a lot of it on the ground, just enough to cover the leaves. The new door kept all the drafts out.

Speaking of the snow...I'm not much of morning person, but taking Fritz out this morning was just hilarious and I about died laughing at him. This is the dog's first snow and he just did not know what to make of it. He when he stood still he always had one paw raised up...like he was scared of touching the white stuff with all four paws.

That's it for now...kids and I have a busy weekend planned. Ortho appointments and Jamie's flea market tomorrow and then on Sunday we are going to go see Harry Potter and the Goblet of Fire on the IMAX screen at the Great Lakes Science Center!

C'ya!
posted by Raven @ 10:05 PM