About Me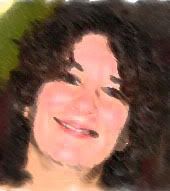 Name: Raven
Home: Ohio, United States
About Me: Married, 2 kids, 3 step-kids, 3 cats and a mini-doxie
See my complete profile
Previous Post
Archives
Places I Wander
Template by
Wednesday, December 07, 2005
Seeing my face again
I mentioned a few months ago that I had started Weight Watchers to try and lose some weight. Well in the last couple of months I have lost a little over 20lbs. I have been working out some as well and because of this I have gone down from an 18W pant size to 14.
I am ecstatic. I am no where near my goal weight yet but I am very pleased. When I look in the mirror now I see my face again. Not this slightly bloated, fighting a second chin face. Not that my face is any great shakes, but I am very happy to see the thin version of it again.
Hubby has been doing Weight Watchers as well and has lost almost 45lbs in the same amount of time. I am very impressed with him and tell him so often. Many times while I'm flirting or making a pass at him.
The thing I like about Weight Watchers is that it is not so much a diet but teaches you about making the right choices and portion control. Thanks to their teaching I even managed to lose a pound over Thanksgiving without feeling like I gave up anything but an extra slice of cake.
This is starting to sound like a commercial. I just need to express how nice it was to look in the mirror and start seeing the me I remember.
posted by Raven @ 8:06 AM