About Me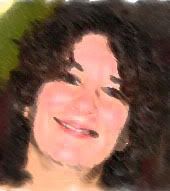 Name: Raven
Home: Ohio, United States
About Me: Married, 2 kids, 3 step-kids, 3 cats and a mini-doxie
See my complete profile
Previous Post
Archives
Places I Wander
Template by
Monday, October 15, 2007
Heat Vampire
In the spirit of the coming Halloween Holiday I thought I would share my hubby's name for me. Most Hubby's call their wives sweetie, honey, something cute and sweet. What does mine call me...Heat Vampire!
Now I have mentioned several times on here that I am a freeze baby. I am almost always cold. I have very low blood pressure (90/60) to the point of my doctor recommending I keep eating salt. Needless to say my blood does not move around my body easily. Because of this I am known for wearing a sweater and jeans in the middle of summer if the air conditioning is up too high. I keep blankets close at hand. I have a very nice sized heater for my office. My favorite way to warm up though...is to attach myself to my hubby. He is always warm. ALWAYS! He wears short sleeves shirts in the winter.
I love to snuggle up in bed with him. When he rolls over, I roll over and plaster myself right up next to him. (This has promted me to try and convince him to get rid of the king size bed and go for a queen or maybe even a full size.)
We go to one of the local football games, I am trying to crawl inside his coat with him. If my hands are cold I go looking for him to hold my hand for a couple of minutes. For the most part, hubby doesn't mind all of this. He does like to tease me though about being a heat vampire.
So far I have found being a Heat Vampire is not all that restrictive. I cannot be out in the cold for long...and any time spent out there means I need to have hot chocolate when I come inside. So far there is no aversion to garlic and I do love to worship the sun.
Sooner or later this Heat Vampire will be moving to friendlier climates...Arizona more than likely. But for now, I must go eat my popcorn with extra salt and put another blanket on the bed, hubby is out of town until Thursday!
posted by Raven @ 2:58 PM