About Me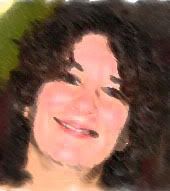 Name: Raven
Home: Ohio, United States
About Me: Married, 2 kids, 3 step-kids, 3 cats and a mini-doxie
See my complete profile
Previous Post
Archives
Places I Wander
Template by
Monday, April 18, 2005
My Wall
I have this one wall, next to my bed that is all mine. No one else really sees it. Visitors generally are not up in my bedroom. I can put anything on it I want. After 5 years of living in this house I was looking at my wall and wondering what people would think of me is they should see my wall. I have a plaque my sister gave me. It's porcelain and shaped like a heart. It says sisters are forever friends. I have the red hat poem that is matted and beautifully framed. I bought that at "Show of Hands" at Great Northern Mall. I also have the picture from the Spencer Tunick photo shoot last summer in Cleveland.
Above all of these things I have a shelf that has a Raggedy Ann and Andy dolls sitting on it. They are about 2 1/2 feet tall that I got when my grandmother died. Sitting between Ann and Andy is a My Twinn doll of me when I was an infant that my mother gave me.
Certainly a wide variety of things. Some of them would cause a person to think that a child or teenager hung things on the wall. But then you see the picture of people's rumps and the red hat poem. The rumps show a little wild streak and the red hat shows repsponsibilty.
Someone just looking would think I am a split personality. In a way, I guess I am.
When I think of myself, I still think of myself in my late teens, early twenties. I do not think about the gray hair of the emerging spider veins. In reality I am marching my way to middle age. That is the responsibility for the kids, the house, and everything else involved in being an adult.
Looking at it now I think my wall shows who I was and where I'm going. Middle aged but not yet ready to grow up!
posted by Raven @ 12:56 AM