About Me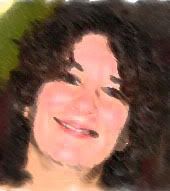 Name: Raven
Home: Ohio, United States
About Me: Married, 2 kids, 3 step-kids, 3 cats and a mini-doxie
See my complete profile
Previous Post
Archives
Places I Wander
Template by
Tuesday, April 12, 2005
Happy Birthd....oh whatever...
Blah...As usual I have managed to get a cold on my birthday. I have spent more birthdays sick than well. I can remember some birthdays when I was a kid that I wasn't allowed to have cake because I was so sick. That's pretty devastating for a kid.
Right now I have a really stuffed up nose and feel kind of run down. The run down feeling could be coming from not sleeping real deep because of the stuffed up nose. Plus I have to get up with the kiddies. To top it all off I have to go sit at my daughter's first track meet today. Oh joy. It's only about 60 degrees with a wind so I will be cold. (Yes yes Orange, I know how warm it is down there, I don't want to hear it!)
After I get done wasting my time on here I have to go and try to find the daughter's gym shorts as it is part of her track uniform and she has managed to lose them during the last week. Blah...
I have so much to do and all I feel like doing is curling up on the couch with one of my cats and become vegetative. But, the kids demand to eat, be driven places like school, and so on.
Well, I'm going to go burn some eucalyptus, maybe that will clear out my head.
posted by Raven @ 12:59 PM