About Me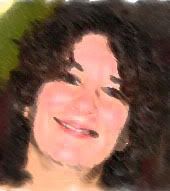 Name: Raven
Home: Ohio, United States
About Me: Married, 2 kids, 3 step-kids, 3 cats and a mini-doxie
See my complete profile
Previous Post
Archives
Places I Wander
Template by
Wednesday, March 23, 2005
Already?!
I thought it would take a bit to collect odds and ends to put in here, but one came up today. A little background. My youngest has ADD, which can make homework time a bit of challenge. My mother decided to take her over to her house most days after school to help her out. Great!! It's working out well. Well, today one of my daughter's friends went over to my mom's with her. My daughter calls and asks if this friend can come home with her...Fine I tell her, but I have to take my other daughter to piano and run to the grocery store.
Well, I am running out of the house, late as usual, and my folks are dropping my youngest off. I wave and get into my van with my other daughter and put the van into reverse waiting for them to pull out of my drive. Well, my youngest comes up to my window and says grandma wants to talk to me. I tell her to run back and tell grandma I would call her. Watching in my mirror I watch my daughter go back and relay this message. I then see my mother's door opening. I realize I am not going to be able to get out without talking to her. So I put the van back into park and get out. She yells at me that no she can't call me...that my daughter's friend can not stay unless I am there. I said fine, and told them to get in the van.
First, did no one think to tell me this earlier? I would have left a little earlier and done my grocery shopping when I went to pick my daughter up from piano. Being here alone with these kids means my days are scheduled. I take them to their different activities and do the errands that need running. I'm like the Six-Million Dollar woman in a mini van.
Second, Couldn't she have just sent the message back that my youngest and her friend had to go with me and she would call me later and tell me why? No offense but when she went through menopause she lost a lot of thinking things through and gained a lot of autocratic sensibilities.
Third, the car is in reverse...get the hell out of my driveway!!! This is not usual behavior for me. I will usually walk back, talk for a few minutes and so on. If I don't do this, I am in a hurry, MOVE!!! I'm gonna buy a tank. That will get them out of the way. Bet I get better traction in the winter too.
Well, that's todays problems with being a single parent. Hubby comes home tomorrow. I can be married for 3 days.
posted by Raven @ 8:29 PM